For A Stronger, Leaner You
Top 12 Fitness Studio in London as Voted For in Cosmopolitan Magazine - Read More
Bringing you a fresh new perspective on Pilates.
Dynamic Reformer Pilates is an innovative, results driven class that will tone, sculpt and strengthen your body in ways you never thought possible. Are you ready?
I started Power Pilates UK with low expectations. I'd heard good things about Reformer Pilates, but I had no idea how much it could actually do for me. Within around two months, a recurring injury I'd been suffering with for about 2 years had completely disappeared, and I felt stronger than ever. Fast-forward a year and my weekly class at PPUK is still the workout I look forward to the most. The trainers are unmatched, from the precision in their form cues to the way they treat each and every member of class as if you're the only one there, whether you're a beginner or a regular, and their energy – if you're lacking motivation, trust me when I say the second you step in that studio you'll be raring to go. I've since started heavier weightlifting and I'm certain I wouldn't have the strength for this had I not started Pilates. Power Pilates UK is also the perfect medium between an intense and 'easy' workout; it's by no means 'easy', but nor does it make me feel wired and exhausted like the HIIT I used to do did. I recommend Power Pilates UK to everyone – my mum, her friends, my friends, my younger sister and her friends – everyone.
– Bridie Wilkins – Fitness Magazine Editor
Read more testimonials here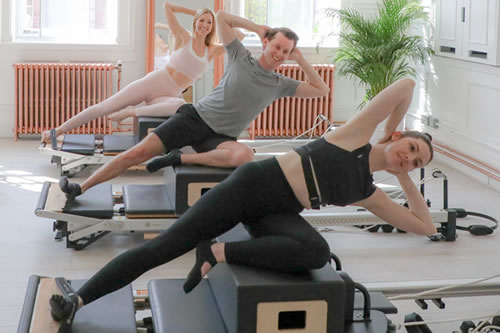 The 55 minute class combines classical reformer Pilates exercises with traditional exercises such as squats, lunges and push ups. These are performed on the reformer, (a bed like machine built with pulleys and springs), which adds resistance to each exercise and increases the overall intensity.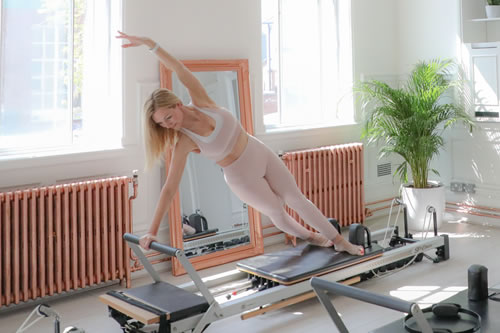 Although not for the faint hearted, our classes are designed to suit all levels, meaning that you can work at your own pace in a safe, professional and energised environment. We also offer beginner classes, which are perfect for those who have never done Dynamic Style Reformer Pilates and those wanting to work at a slower pace.
Power Pilates UK
58 High Street,
Beckenham
Kent
BR3 1AY
OFFICE HOURS
Monday – Friday
9am – 5pm
Saturday
10am – 2pm
We are happy assist you promptly during office hours with any inquiries or requests you may have. If we are unable to answer the phone we may be teaching or assisting another client. Please leave a message or send us a text or WhatsApp, and we will respond as soon as possible.
For any other matters or inquiries that arise outside of our office hours, we kindly ask for your understanding and patience. Rest assured that we will address your concerns as soon as we resume our operations on the following business day. If it is an emergency outside of office hours that needs to be handled urgently please text message or WhatsApp both numbers above. We will respond as necessary to those urgent matters. Remember, you can always book and cancel your classes online through our website or the Mindbody App.