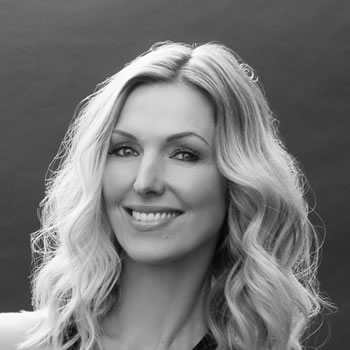 Korin Nolan
Founder of Power Pilates UK, Korin started her Pilates journey during her dance training over twenty years ago at The London College of Dance, Middlesex University. She then completed her Pilates teacher training with Body Control Pilates in 2004. Korin taught Matwork Pilates for many years in and around London, whist alongside working in television.
She discovered 'Dynamic Reformer Pilates' in 2011 and trained at the first Dynamic Reformer studio in London 'Bootcamp Pilates'. Korin loved energy of the class and the fusion of Pilates and fitness in one. But most of all, the way it noticeably transformed her shape within a matter of weeks.
Korin opened her very own studio 'Power Pilates UK' in 2014 in Beckenham and has built a strong team as well as loyal client base over the years. The studio moved to a beautiful new location on Beckenham High Street at the start of 2021 which she describes as her 'happy place'.
Korin is passionate about making Dynamic Reformer Pilates accessible for all levels of fitness and believes that its is truly is life changing.
'I think it's important that our classes maintain the main principals of Pilates, so the exercises are performed with control and precision, but we also step it up a gear with more dynamic exercises and inject the fun factor too, with good pace and energy! So it's a really challenging class, but in a safe effective way. I am proud to have such a strong team of trainers who continue to deliver high standard classes.'
As well as the studio, Korin also co launched Dynamic Pilates TV back in 2018, which is an online Dynamic Pilates platform that hosts hundreds of on demand classes, taught by trainers from all over the globe, including herself and some of the Power Pilates UK team. The app has grown over the last few years and has members in over 70 countries worldwide.
You can follow Korin on IG @korinnolanpilates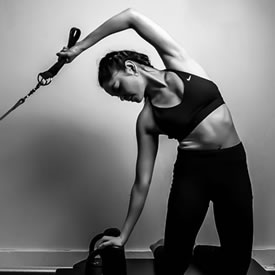 Emma White
Emma is originally from New Zealand and discovered the benefits of Pilates whilst training as a young classical ballet and contemporary dancer before dancing professionally with the Royal New Zealand Ballet. As a dancer with scoliosis in a career that demands a high amount of physicality, she recognised the potential to prevent and aid injury while conditioning the body to maintain a balanced musculature. Although now having moved on from dance, Pilates continues to be a part of her life.
Educated in both New Zealand and the UK, Emma has worked with a diverse range of clients with varying goals and conditions, clocking up to 6000 hours of teaching around London. Being very passionate about movement, she loves being able to share her knowledge with the clients and to help them integrate movement into everyday lives. Don't be fooled by her calm and gentle demeanour, she will be sure to deliver a challenging, well rounded and functional Pilates class to help you feel stronger, stand taller and more clear-headed to seize the day.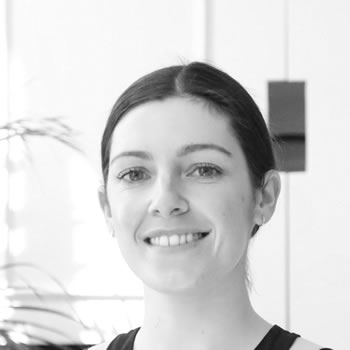 Zöe Harris
Zoë started her career as a dancer and holds a diploma in Professional Dance and ISTD Ballet Teaching qualifications. She discovered Pilates while training professionally, to condition and rehab the body and found it not only complementary to dance but all other forms of movement. She now holds a certification in Dynamic Reformer Pilates and Level 3 Pre & Post Natal fitness.
She aims to provide her clients with the knowledge and tools necessary to incorporate movement into their lifestyle. She is inspired by our uniqueness as humans, how our body moves, adapts and works together with the mind. It's important to Zoë to create a safe environment so you can feel confident, ready to challenge yourself and leave feeling rejuvenated and strong.
Steph Morris
Steph started practising Pilates in 2005 at The BRIT School of Performing Arts where she gained her National Diploma in Musical Theatre. She went on to gain her BA Hons in Dance at Middlesex University where her Pilates training developed. Steph now teaches a variety of Dance, Fitness and Pilates classes across London and the South East including Frame, Sweaty Betty and Power Pilates UK. Steph is very passionate about Pilates and continues to expand her Pilates training. Expect high energy and throw back R&B tunes in Steph's classes.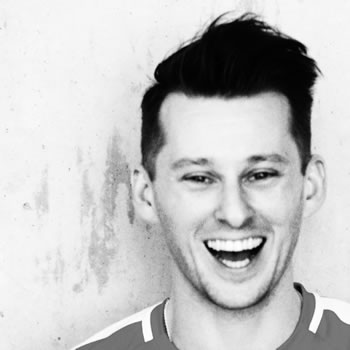 ben Stott
Ben is originally from the North West. For 10 years he worked professionally as an Actor after achieving a First Class BA (Hons) degree in acting from L.I.P.A. Ben's work varied from screen to stage, classical to musical theatre in the West End and regionally.
His Pilates journey started with his own self-practice. Reformer Pilates became his weekly escape and the first form of exercise he enjoyed! Having lived his dreams of acting out Ben decided to make his new passion his new job. He trained with Frame Academy/Active IQ in 2018 where he now teaches Reformer, as well as to private members clubs across London. He teaches Mat Pilates for corporations such as Google and for other online platforms. You can also catch him now and then teaching Spin at Boom Cycle.
Ben loves a creative and challenging class but always with a big smile! He is passionate about clients feeling on top of the world, becoming physically and mentally strong. Pilates changed his life and he wants the same for his clients!
Simge Altuner
Simge's interest in pilates began after an injury. She practised in a leisure capacity for years and loved how it increased the quality of her life and improved numerous aspects of her health. Simge's professional studies began with FutureFit (mat pilates) followed by Body Control pilates (reformer pilates). She continued her Pilates education and wanted to help others as those before had helped her.
Following the birth of her first child, Simge also qualified as a pre&post natal Pilates instructor. Knowing first-hand the importance of self-care during her pregnancy, Simge wanted to share her experience and benefit for others and made sure to provide safe training programmes to her clients during this very important time in their life.
Simge continues to teach and continue her education in the fitness and health industry. Her approach to Pilates is that every body is different and her approach to each student will be unique.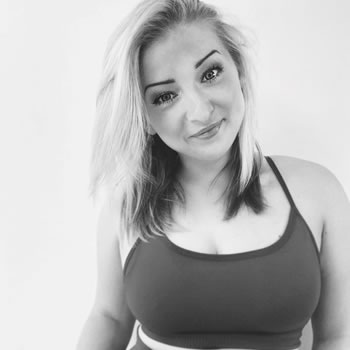 Natalie Scrutton
Natalie is originally from Liverpool and has grown up dancing, gaining her National Diploma in Musical Theatre and Dance from Bird College, Sidcup.
She started her Pilates journey to overcome an injury and instantly fell in love. Natalie now teaches Pilates, dance and other fitness classes around the Bromley area.
Natalie loves helping encourage people to move their body in a way they love to reach their fitness and wellness goals. Expect high energy, fun music with a mixture of strength and stretch for an all over happy, healthy body.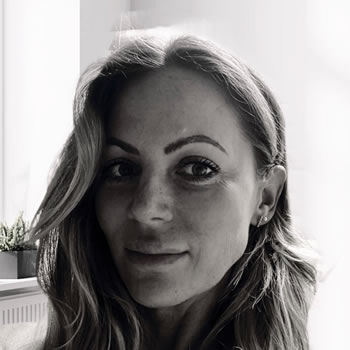 Anett Racz
Anett started to practice Pilates 11 years ago, inspired by her first Pilates instructor who was a former dancer now in her late 60's. Anett found her flexibility, strength, and elegance so amazing that she decided to become a Pilates instructor.
Additionally, Anett finds it fascinating what Pilates can do to the body as a low impact, joint friendly physical fitness.
Anett's focus tends to be on connecting breath with movement to strengthen the core, support the spine and bring connection to the mind.
Anett completed her training with Balance Body and KXOne in London. She has been teaching for 3 years and hopes to continue many more.
Kimberley-Jade O'kagbue
I first ventured into the world of Pilates whilst at college in 2008 where I studied dance. Fitness has always been a big part of my life but after understanding my diagnosis of PCOS (poly cystic ovaries syndrome) I started to look into the best type of exercise to help me and reformer Pilates helped me so much. I started going constantly for years and finally gained my reformer Pilates teaching qualification in 2019.
I hope to help others gain confidence and strength at every stage of their fitness journey through reformer Pilates.
Clara Tan
Clara is an engineer, artist and athlete hailing from all parts of the world – she has lived in Australia, New Zealand, L.A., and Korea to name a few.
Currently training in Olympic Weightlifting, Clara loves the balance and care of Pilates – it touches every muscle and 'prehabs' you from injury.
Qualified in STOTT Pilates, Clara leads with experience gained from working with the best instructors, movement educators, and physiotherapists over 15+ years. She has first-hand experience overcoming multiple injuries and chronic pain, so understands the importance of getting moving. Clara draws inspiration from practises as diverse as calisthenics and martial arts. Her classes integrate her knowledge and experience in a fresh, fun, dynamic way – guaranteed to make you sweat!
Anna Mounsey-Heysham
Anna has always been movement and fitness obsessed. Primarily a Reformer Pilates instructor, she also teaches Yoga and is a Personal Trainer. Anna completed her Reformer Pilates training at Body Mind Life in Sydney, and is currently completing her full comprehensive Pilates training with Polestar Pilates in London.
Anna has been teaching Reformer Pilates for the last four years in a range of studios in Sydney, but has just returned home to London. Anna loves nothing better than correcting technique and pushing clients to reach their full potential, but most importantly her classes are always about having fun and you'll come away feeling energised and stronger!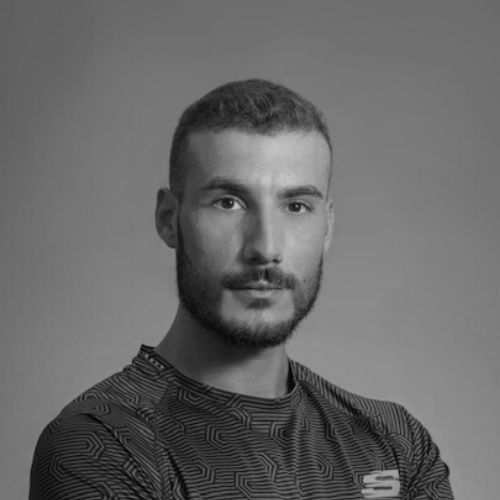 Matteo Cruciani
A native Italian, Matteo was born and raised in the city of Rome. He grew up with a huge passion for dance, movement and creative expression. He trained in classical ballet & contemporary dance at the Royal Academy of Dance in Rome.
He is a qualified fitness instructor, Yoga & Pilates teacher and leading successful classes weekly In gyms, studios and Leisure centre around London.
He has been practicing Yoga and meditation for the last 10 years and took countless classes in different yoga styles and Pilates.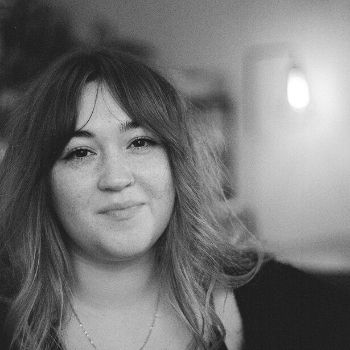 Lily Juniper
Lily discovered Pilates in her late teens and after years of hating school P.E. lessons and rejecting all other forms of exercise, completely fell in love with the pilates method.
She trained with Balanced Body in New York with Lesley Powell and has been teaching both Mat and Reformer Pilates since 2016 for various studios and clients in and around London.
Her main goal is to create a friendly, fun and welcoming atmosphere to explore movement and gain some mental space from the demands of our usually busy and hectic lives.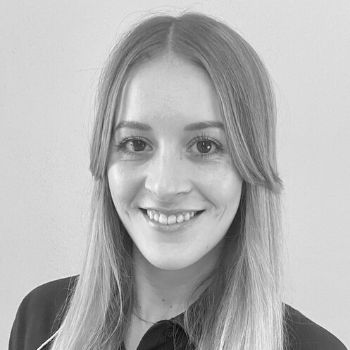 Abby
Abby is an ex-professional dancer, who trained at Central School of Ballet and Laine Theatre Arts where she gained a Diploma in Dance.
After undergoing major foot surgery in 2018 after touring the UK and internationally with Cameron Macintosh's 'Mary Poppins The Musical' her dance career prematurely ended. During her ongoing rehabilitation Abby found her way to Pilates and after feeling the personal benefits, never looked back!
Abby completed her Reformer and comprehensive Matwork training with APPI (The Australian Physiotherapy & Pilates Institute). She is also trained in ante and post-natal pilates and has completed Matwork courses for osteoporosis, hyper-mobility and shoulder rehabilitation. She teaches Reformer and Matwork Pilates in boutique studios throughout South-East and Central London.
Her classes will have you feeling stronger, more mobile, and with a deeper connection to your body's capabilities. She is passionate about helping others back to functional, beautiful and easy movement.
Shauna
Shauna holds her Masters in Nonprofit Management and Leadership (Northeastern University), BFA in Dance Performance (Temple University), CTE Certification in Arts, Media and Entertainment (University of San Diego), and received her comprehensive Pilates Certification from Club Pilates. She taught for several legacy Club Pilates studios for 3-years before relocating to the U.K. in 2022 with her husband and daughter.
Her Pilates training started in 2004 as a part of her college dance program, continuing to use it as a tool to strengthen and improve her dance technique throughout her career. She has performed with multiple professional dance companies on the East and West Coasts of the United States for over 15 years. Her choreography has won local awards; was commissioned and presented by companies and dance festivals in Southern California. While in Southern California, she produced and directed a regional danceXchange, and International Dance and Film festival. Shauna was involved in dance education with the California Center of the Arts. Additionally, directed and taught dance programs in the public, charter, and private school programs specializing in arts integration. Internationally she taught dance in Mumbai, India.
She started her Pilates teaching journey with an apprenticeship in the classical method, then later completed her certification in a more contemporary form of Pilates. She enjoys helping people discover movement, mind-body connection, and that a workout can be challenging and fun!
Along with teaching regular classes at Power Pilates UK. Shauna has taken on the management and administration duties for the studio.