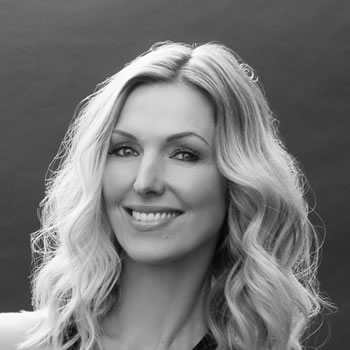 Korin Nolan
Founder of Power Pilates UK, Korin has twenty years' experience in Pilates training. Having trained as a dancer at The London College of Dance, Middlesex University, she went on to complete her Pilates teacher training with Body Control Pilates 14 years ago. Korin opened her first Dynamic Reformer Pilates studio at Breeze Yoga over four years ago. Korin's style & approach has developed over the years and her love for Dynamic Reformer Pilates has driven her to the point where she finds herself today. Her main ambition has been to create a studio that produces powerful classes, which maintain the strong foundations of Pilates, combined with more fitness based exercises, that can be taken to the reformer machine. Thus, producing an energised, all rounded workout that challenges the entire body like nothing else. Korin has selected a strong team of trainers, keeping class standards high and works to maintain the outstanding reputation that Power Pilates UK has gained over the past few years.
You can follow Korin on IG @korinnolanpilates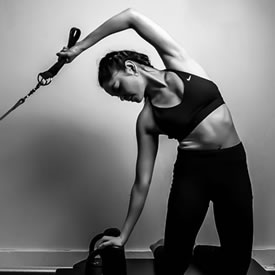 Emma White
Emma is originally from New Zealand and discovered the benefits of Pilates whilst training as a young classical ballet and contemporary dancer before dancing professionally with the Royal New Zealand Ballet. As a dancer with scoliosis in a career that demands a high amount of physicality, she recognised the potential to prevent and aid injury while conditioning the body to maintain a balanced musculature. Although now having moved on from dance, Pilates continues to be a part of her life.
Educated in both New Zealand and the UK, Emma has worked with a diverse range of clients with varying goals and conditions, clocking up to 6000 hours of teaching around London. Being very passionate about movement, she loves being able to share her knowledge with the clients and to help them integrate movement into everyday lives. Don't be fooled by her calm and gentle demeanour, she will be sure to deliver a challenging, well rounded and functional Pilates class to help you feel stronger, stand taller and more clear-headed to seize the day.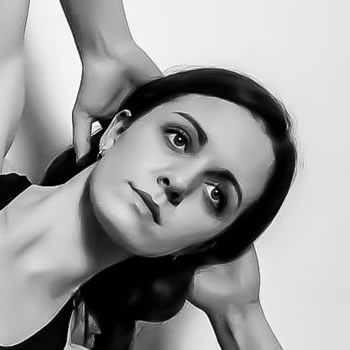 Sarah May
Sarah first started Pilates during her dance training on the BA (Hons) Theatre Dance Course at London Studio Centre. She found Pilates so beneficial to keeping her body strong and injury free against the demands of full time dance training. Upon graduating she took her Pilates Matwork qualification with Body Control Pilates and is a Level 3 (REPS) Matwork Instructor. Her dance training has always given her the desire to want to push her body to the next level, so she then went on with training to teach Dynamic Reformer Pilates and since discovering the endless possibilities in Reformer Pilates, she hasn't looked back!
Sarah's classes are great for building up stamina and strength. She loves helping you to achieve your goals so that you can really start to feel and see the difference in your body, both in and out of the studio. You'll get a good workout and have fun doing so!
Charlotte Oakley
Originally from the Wirral, UK, professional dancer Charlotte trained at The Hammond School of Dance in Chester. Since graduating, she has performed in production shows all over the world, finding a passion for teaching along the way. Charlotte discovered her love for Reformer Pilates whilst teaching barre, dance and fitness in studios across London, and soon came to realise it was the perfect accompaniment for her ballet training and technique. Her bubbly personality and musical theatre background adds to an enjoyable class with a motivating playlist, whilst still being challenged to feel that ultimate "burn" throughout each exercise.
Charlotte is absolutely delighted to be joining the Dynamic Pilates TV team and is looking forward to helping members build strength, confidence, increase flexibility, whilst achieving wonderful posture!
Steph Morris
Steph started practising Pilates in 2005 at The BRIT School of Performing Arts where she gained her National Diploma in Musical Theatre. She went on to gain her BA Hons in Dance at Middlesex University where her Pilates training developed. Steph now teaches a variety of Dance, Fitness and Pilates classes across London and the South East including Frame, Sweaty Betty and Power Pilates UK. Steph is very passionate about Pilates and continues to expand her Pilates training. Expect high energy and throw back R&B tunes in Steph's classes.
Wojtek Pawlinski
Wojtek's original background is Ballet where he qualified as a Pro Stage Dancer in 1998. It was during his dance career that seized the opportunity to travel around the world, until he found London was the place to call home.
Wojtek first qualified to teach in 2004 and has since taught a variety of different classes including Step, Aerobox, Fitball, Bootcamp, Suspension Training, Barreconcept, Spinning, Boxercise and Kickboxercise. A few years later he also added BSC in Physiotherapy and Level 3 in Personal Training to his belt and is still broadening his horizons. His latest addiction to Reformer Pilates started at Heartcore where he trained and still teaches.
Sophie Zalewski
Sophie discovered Pilates during her training as a professional dancer, whilst doing a three-year BA Hons Degree. She in fact obtained her Level 3 Pilates matwork qualification whilst continuing her dance training, realising how beneficial pilates was for her body and the impact regular practise could have.
Sophie now teaches regular Pilates classes across London, as well as Barre fitness and dance. Sophie has a passion for helping others in an encouraging and safe environment, where they can feel confident to try new things and challenge themselves to achieve their personal goals.
Kylie Shea
Originally from Australia, Kylie found her love for Pilates after moving to London in 2011 and using it to reverse the effects of long hours behind a desk as a PA. Educated in the UK, Kylie has been teaching Reformer Pilates since December 2017 alongside her office job, with the goal being to make Pilates her full time career in the near future. Kylie loves working with people and strives to bring her fun-loving personality into her teaching style, while continuing to deliver a challenging workout. She feels very passionately about building a strong rapport with clients, and after experiencing the benefits of Pilates first hand, finds great reward in helping clients to achieve their goals, and improving overall movement both inside and outside of the studio. Kylie is really excited to be joining the team at Power Pilates UK.